Titanic's tragic tale unfolds as visitors take history's helm in new exhibit
Volo Museum tribute to open on 111th anniversary of luxury liner's demise
The period clothing. The luxury automobiles. The travel gear and lore that puts a visitor at history's helm. It's all here, with riveting detail. 

"It's been 111 years since the Titanic was gashed by an iceberg in the North Atlantic and sank. But the public's fascination with this tragedy — with the stories of the people who perished and those who survived — never diminishes," said Greg Grams, founder of the Volo Museum and the man behind "A Tribute to the Tragedy," opening April 14 at the museum, 27582 Volo Village Road.

"I share that fascination," he continued, noting he has spent more than a year and about $5 million developing the exhibit. "This has been a labor of love, and a quest to find answers to a lot of the questions I had about how it all unfolded. I'm extremely proud of how it's turned out."

Touted as unsinkable, the luxury liner was on its maiden voyage from Southampton, England, to New York when it struck the fateful iceberg at 11:40 p.m. April 14, 1912. By 2:24 a.m. April 15, 1912, the ship had broken in two, both parts resting at the bottom of the ocean. Of 2,240 passengers and crew aboard, 706 survived, according to History.com.

It's been the subject of countless books and numerous films, including, of course, the 1997 James Cameron epic featuring Leonardo DiCaprio and Kate Winslet: "Titanic."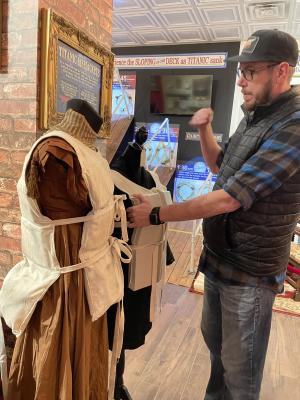 Visitors to the Volo Museum's new exhibit will encounter the very vehicle from which the two stars' infamous onboard dalliance car was fashioned — a 1912 Renault. "The exhibit's is one of only two of the touring models ever made, the other of which went down with the ship," said Jim Wojdyla, marketing director for the museum.

Also among Titanic-era vehicles in the display is a 1912 Delaunay-Belleville once owned by Evalyn McLean, who also possessed the famous Hope Diamond, on which Rose's Heart of the Ocean necklace is based in the Cameron film.

"Each one of the cars included in this exhibit is extremely rare and valuable," Wojdyla said. 

The exhibit itself also is rare — one of only a handful in the United States that is devoted to Titanic lore. On the way into the exhibit, which will feature a separate entrance and separate admission, a ship's bow is under construction. 

Inside, several examples of genuine period attire show the type of clothing that first-, second- and third-class passengers might have worn aboard ship. Well-researched story boards line the walls, each relating a brief narrative of a passenger or a facet of the tragedy's timeline. A tribute to the musicians is here, as is a recreation of the ship's bridge.

Among interactive parts of the display, a trio of inclines indicate the terrifying grade of the ship's slanting deck at various times as Titanic sank. Another offers a chance to dip a finger into 28-degree saltwater — the temperature of the North Atlantic as the ship disappeared into the sea.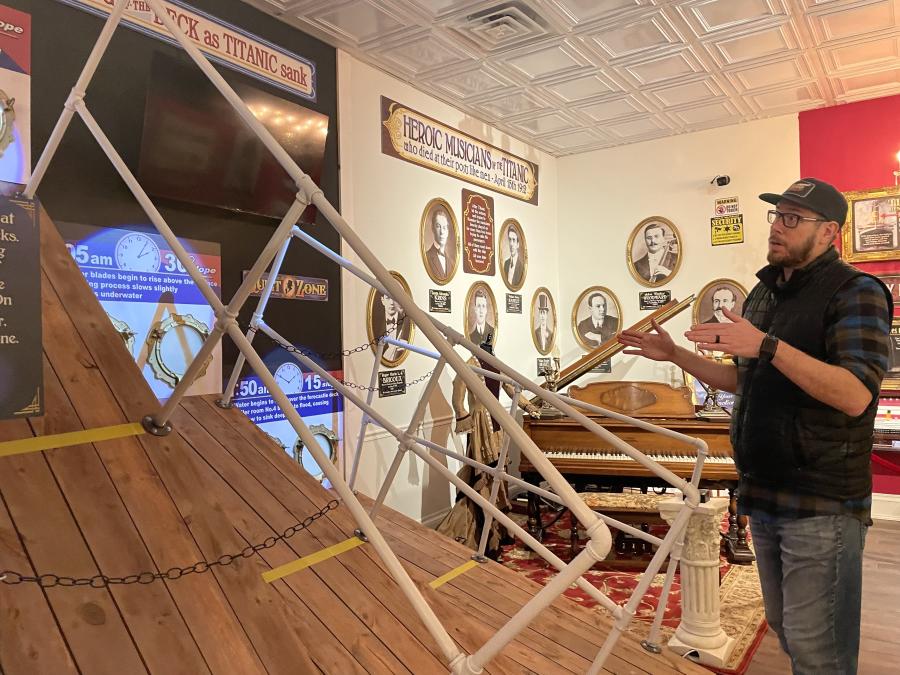 There's even a White Star Line life vest positioned next to one from the Cameron film, as well as a small theater where visitors can watch a 9-minute reel about people who were on board.

"These families who were on the ship had less than three hours to, in many cases, say their goodbyes," Wojdyla said. "We wanted to present an exhibit that pays respectful tribute."

Admission to the Titanic exhibit will be $14.95 for those ages 5 and older. Entry will be metered, with only 30 people allowed in per hour, so tickets will be date- and time-specific.

More information about the exhibit is available at volocars.com/the-attraction/titanic.
Regular museum admission is $22.95 per adult, $20.95 per senior, $19.95 for military, $12.95 for children ages 5 to 12 and free for children 4 and younger. Separate admission to the Jurassic Gardens dinosaur park is $15.95 each; free for children 4 and younger. 
Combo passes, good for both the museum and Jurassic Gardens, plus re-entry the following day, are $34.95 for adults and $24.95 for children. The museum is open 10 a.m. to 5 p.m. daily.
  
For other details, visit volofun.com, find Volo Museum on social, or call 815-385-3644.