Sure, Bill Murray and Andie MacDowell were the stars. But around these parts, everyone knows it was Punxsutawney's picturesque stand-in that stole the show. 
And, as townspeople here prepare once again to relive their early February appointment with a weather-predicting marmot, organizers of Woodstock Groundhog Days are pulling out all of the stops. This is, after all, the 30th anniversary of the release of the acclaimed cult classic "Groundhog Day," in which Woodstock serenely portrayed Punxsutawney, Pennsylvania, where Murray's pothole-plunking character was mired in a time loop.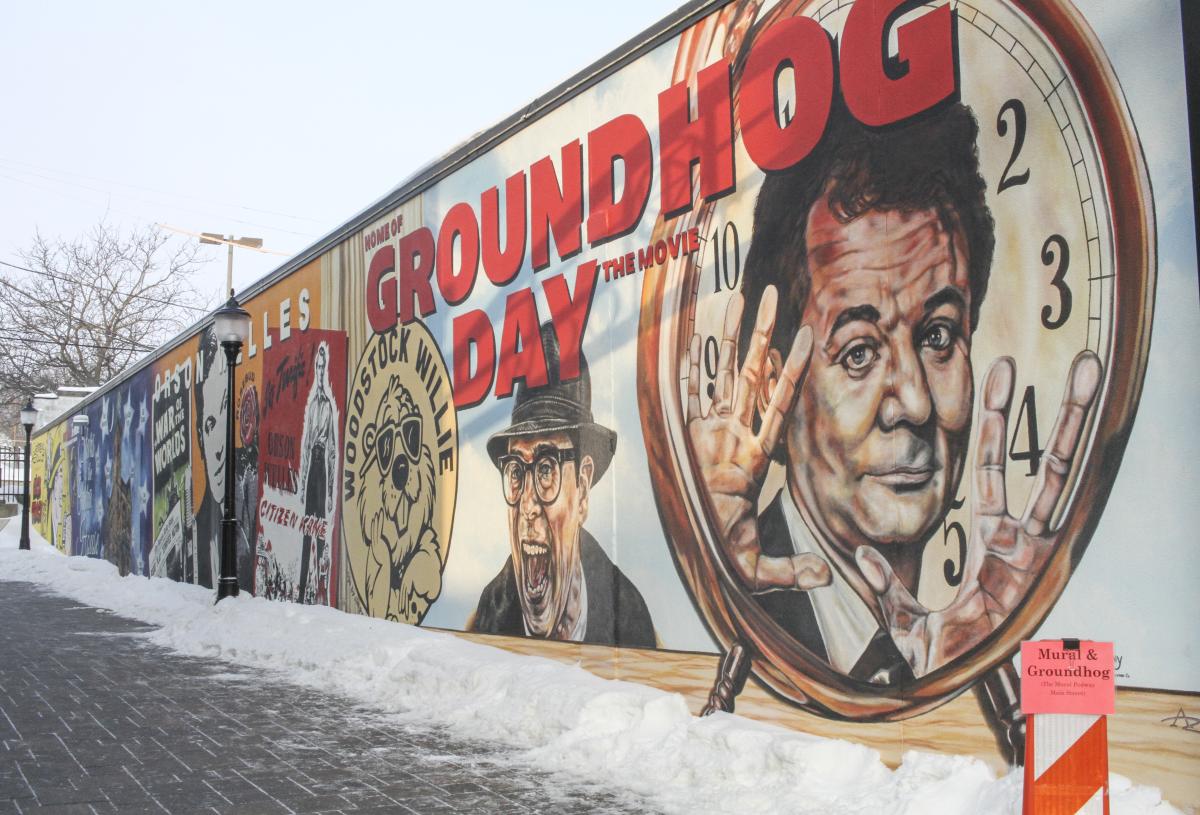 Photo by K Adams Foto
Starting Feb. 1 and continuing through Feb. 5, the public is invited to enjoy walking tours, breakfasts, dinners, film screenings, memorabilia exhibits, author appearances, Bingo, bags, a pub crawl and more. Those are all in addition to the big prognostication, starting promptly at 7 a.m. Feb. 2 at the gazebo in the Woodstock Square, said Rick Bellairs, chairman of Woodstock Groundhog Days.
Like many of a certain age who are from the Woodstock area, Bellairs, cast as one of hundreds of extras, recalls fondly his days on set during the making of the movie in 1992. 
"Back then we had little idea what the movie was about, let alone that people would still be talking about it 30 years later," he said, adding that the town first started celebrating its star turn on Groundhog Day 1994.
"It was a small gathering, a handful of people," Bellairs said. "Since then, it's grown each year to include having a live groundhog come to having a polka band come and from one day to several days. It's something silly and fun in the middle of winter, a good chance to get outside and do something different."
And people do come, some from as far away as Australia and Germany, Bellairs said.
"It is exciting to meet people who come each year from across the country and beyond," he said. "It's so great to see how happy they are, how much fun they are having and how much they love Woodstock."

Photo by K Adams Foto
Jaki Berggren, president and CEO of Naturally McHenry County, said Woodstock Groundhog Days' continued popularity is a testament not only to the enduring appeal of the film, but also to the endearing nature of the town.
"This is one we all look forward to," Berggren said, "no matter what the groundhog predicts." 
Among this year's special attractions for film aficionados are the return of Danny Rubin, who wrote the original story and co-wrote the BAFTA-awarded screenplay with Director Harold Ramis. Rubin will be at the prognostication on Groundhog Day, and then at 2 p.m., will address an audience at the Woodstock Opera House, aka the Pennsylvania Hotel. 
"For those who may ask how many days is Phil stuck in his time loop, or how did he get stuck there, they can come hear it from the man who wrote the story," Bellairs said, adding that the Opera House event, like many during Groundhog Days, is free. 
Also highlighted are walking tours led by film production manager Bob Hudgins. These will take place at 10 a.m. Feb. 2 and 1 p.m. both Feb. 4 and Feb. 5.
"Hudgins was the coordinator between Columbia Pictures, Harold Ramis and the City of Woodstock," Bellairs said. "He has a lot of fun, behind-the-scenes stories about the making of the movie."
Classic Cinemas Woodstock Theatre will screen "Groundhog Day" at 7 p.m. Feb. 1, noon Feb. 2, 10 a.m. Feb. 4 and 10 a.m. Feb. 5. Cost is $2. A detailed list of all of the other Groundhog Days festivities can be found at woodstockgroundhog.org.
Public House of Woodstock
Woodstock Square Historic Distirct