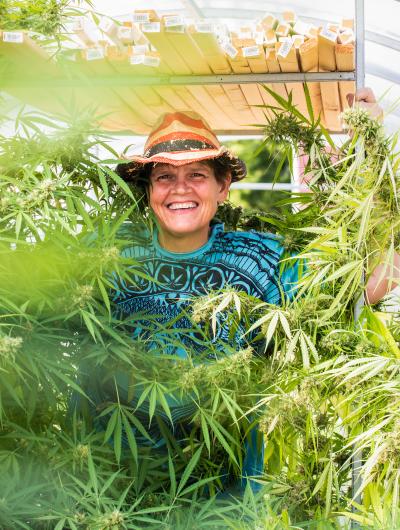 Stacy McCaskill's eyes lit up as she told the story of her farm's beginnings. She and her wife, Dr. Ronda DeVold, DVM, had found a property for sale that would be closer to Dr. DeVold's work and allow the veterinarian to have horses. 
Despite being just a couple of minutes from Woodstock's historic town square, the ag zoned property was spacious enough that Stacy could also fulfill her dream of becoming a hemp farmer. Soon, Hempstock Pharms was born. 
The year was 2019 and Illinois had just legalized industrial hemp. Stacy, a serial entrepreneur, experienced educator, and world traveler, became passionate about hemp through her work with Rachel Berry, founder of the Illinois Hemp Growers Association. Stacy helped Rachel launch the organization and quickly became a much sought after speaker and advisor to hemp businesses across the state. 
Stacy is also the President of the Illinois Herb Association and is on the Board of the Specialty Growers Association. You might say she knows her stuff. Stacy started by selling her home crafted CBD products from the farmhouse's laundry room. Now Hempstock has a large hemp processing barn, formulation kitchen, member's only smoking lounge, and operates a quaint apothecary-like retail space. Staff has expanded as well to include a certified massage therapist, offering CBD infused massages. 
Hemp is known for its thousands of potential uses, especially from its oil. Cannabinol, or CBD, purportedly has a positive effect on pain, inflammation, anxiety, and a whole litany of other issues. It can improve digestion, bring on a sense of calm, and help you sleep better.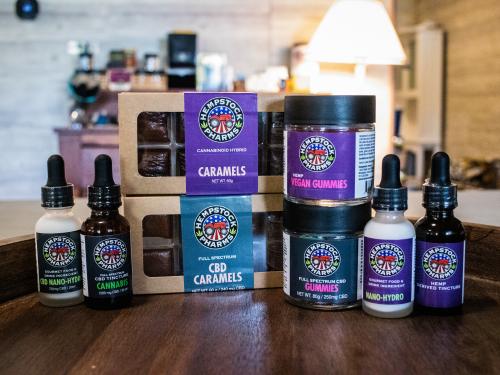 Hempstock Pharms taps into those healing properties, making them accessible with everything from a topical salve for achy joints to elderberry honey to full spectrum CBD tinctures. These tinctures, suspended in MCT coconut oil, come in various flavors, including blueberry, strawberry, and the ever-popular elderberry. There are specially-formulated treats for horses and for dogs, including a bacon-flavored tincture. There's a seltzer line, and topicals, edibles, and smokables are also available. 
With one line of tinctures, not only can you support your own health, you can also support others. Owner Stacy McCaskill is an educator who's taught in countries around the world, including Ukraine. She's dedicated a line of tinctures, sporting blue and yellow labels, to supporting Ukrainians and is donating one hundred percent of the profits to humanitarian relief efforts in the war-torn country.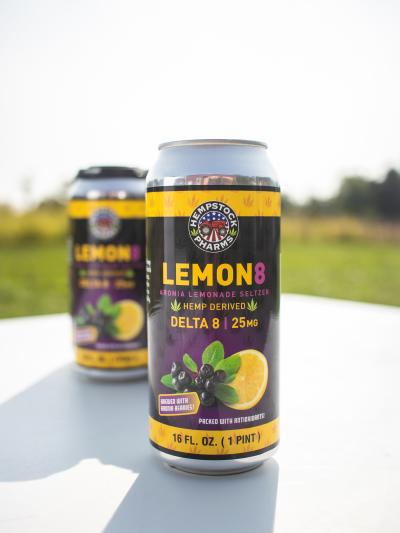 Since the beginning, Stacy has formulated each product herself. The organic plants are dried in the barn right behind the farm store before being processed by hand. Hempstock Pharms' hemp has a high concentration of CBD, but has less than 0.3% of THC, the mind-altering component of hemp's sister plant, marijuana. 
Stacy's constantly innovating and testing new plants. One of their unique products is made with THC-V, a Cannabinoid variant that doesn't have any of the psychoactive effects of THC. Stacy uses this strain in Cannaburn, a tincture formulated to aid with weight loss, regulate blood sugar levels, and is even purported to ease symptoms of Parkinson's Disease. 
Dr. DeVold's experience and her degrees in zoology, microbiology, and veterinary technology provide a considerable resource for the development of new products. That comes in handy in a field that's as highly regulated as the cannabinoid and hemp industry: independent testing and evaluation is required for every product. 
Hempstock Pharms is open six days a week, and if you're interested in learning more, you can schedule a one-on-one tour. "We always walk people out to the field if they want to take a look," Stacy said, "and they're free to take pictures. I think that's unique to us." There's also an online store where you can purchase products for delivery and learn more about Hempstock's product lineup.
Learn more about
Hempstock Pharms
and visit them today: