The new McHenry County Craft Beverage Trail is now live, so make your plans to get to all 11 participating locations! We (Jay and Leah from 
Gastronomblog.com
) recently made it to all 11 and let us tell you we had some very tasty beers and spirits! This trail covers so many different kinds and styles of beers from stouts, cream ales, lagers and interesting IPA's. There is something for everyone, and make sure to plan ahead for various events, too, like beer yoga, live music and tasty food trucks!
These are in no particular order, as they are located all over McHenry County, easily accessible from Chicago or Milwaukee, as well as a quick trip from O'Hare, so make sure to add the McHenry County Craft Beverage Trail to your "must visit" list!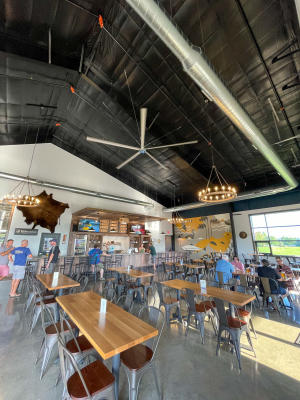 This brewery, located in a lovely and large new facility in Woodstock serves traditional beers and seasonal offerings that will appeal to all. The Brewmaster, Dan highlights his love of German Pilsners, English Bitters and Milds, and even West Coast IPA's. They have an expansive patio and indoor space for tasting beers and enjoying food from food trucks. Make sure to stop at Kishwaukee Brewing for lagers, ales, Märzen, gose and Saisons. Fridays there is a special new cask they tap, so stop in for a special taste!
Gastronom Recommended Sip: Märzen
The only location that is just a Distillery on the tour is Rush Creek Distilling. Located in Harvard, they produce vodka, flavored vodka, gin and whiskey. Make sure to taste the coffee vodka! 4 friends and locals started this distillery and they keep that local focus by using local grains and ingredients! Their bar and tasting room, which are very modern and industrial are a gorgeous space to sample their liquors in. They have a great event space lofted above the whole room, and while having a cocktail, enjoy food you brought with you, delivered or from a food truck. Make sure to enjoy their seasonal cocktail menu that highlights fresh flavors!
Gastronom Recommended Sip: Barrel Rested Gin or the Coffee Vodka
Shadowview gets their name from the Celtic Fest, Imbolc celebrated February 1 for the beginning of spring. They see themselves as the local watering hole featuring great food and craft beer. They have great wood fired pizza and savory bites perfect for pairing with their wonderful beers. They feature wheats, stouts, Saison, IPA's and a lovely blonde ale. They have a great beer called the Box O Crayons that they change the base flavor of – we got to try 3 different iterations while we were there: the Pineapple Coconut, Strawberry and Peach. It was the same base beer, but the flavors of the fruit changed it so much and it's an exciting way to switch things up for seasonal additions. 
Gastronom Recommended Sip: Plato's Cave – Imperial Stout
This location invokes a lot of vintage pub feel in their gastropub. It feels like the neighborhood place to go to for shuffleboard and darts. They feature chef created pub food and craft beer, but it's family friendly with a kid's menu, too. Their food includes offerings of poutine, cheese curds, pretzels, salads and burgers. They recommend certain beer offerings with their menu items, even items such as their bread pudding with a brown ale, or Gelato with a stout or IPA. They also offer malbocks, saisons and gold ales. 
Gastronom Recommended Sip: Lux Umbra – Blonde Stout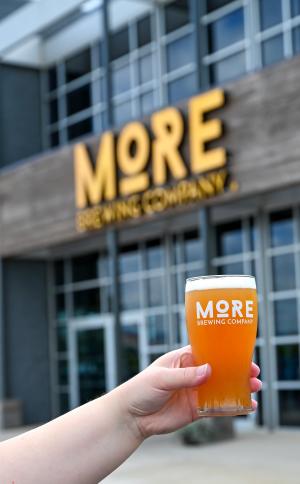 More Brewing has 2 locations, one outside of McHenry County, but the one we visited was in Huntley. They feature an extensive beer menu as well as food. Room to spread out in a lot of different spaces in the building and out, this craft brewery has a lot on tap to try! They feature Märzen, bocks, wheats, seltzers, stouts, lagers, sours and IPA's. Obviously something for everyone, as well as on the food menu offering pub offerings like cheese curds and burgers, as well as other cuisines. One of their highlights is their attention to the barrel aging of their beers. They are kid-friendly and have a kid menu. 
Gastronom Recommended Sip: Morever – Hazy IPA
Located in a sewing machine factory, Sew Hop'd Brewery has tied some sewing terms and themes into some of their beers. Some of these are "Needles Hazy Eye" and "Stan's Amber" (the founder of the sewing machine company). Their Borden Street Stout (the street on which they are located) changes the flavor seasonally, right now it's S'mores, and was divine. They offer Nitro brews, as well. They have regular food trucks, live music, and have an expansive patio and parking area, so bring your friends. 
Gastronom Recommended Sip: Friendly Village Porter
Holzlager uses a blend of traditional brewing techniques and state of the art methods and controls, which they call The Brewright Method. They produce some amazing beers (with amazing labels). Quirky beers like cotton candy seltzer, Nitro stout, and barrel aged Russian stout. Their Black IPA, the Trojan Unicorn, is described as "Consider your mouth the city of Troy and this steed is coming in shooting flavor lasers all over your taste buds." And it's such an apt description, so be prepared for unique and fun flavors at Holzlager. Get food delivered or do carryout from the close-by restaurants. 
Gastronom Recommended Sip: Trojan Unicorn, or the Hawaiian Hammer (They were sold out!)
This neighborhood brewery has a long history. The first McHenry Brewery opened in 1860. This locations' long history has lasted through Prohibition and is now reimagined with a beer garden, food trucks and live music. They also put out a new beer EVERY Friday. They highlight Scotch ales, Pilsners and even non-alcoholic root beer on tap! They have seasonal beers and are always changing with their Friday releases. 
Gastronom Recommended Sip: Fox River Scotch Ale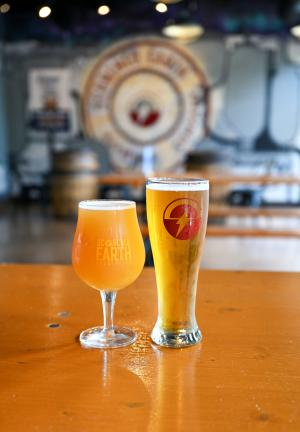 Scorched Earth Brewing Company, at all times has around 50 beers in draft, can or bottle form, all made on site. You will absolutely find something to drink here during your visit! A taproom, beer gardens, shuffleboard, plus the space to spread out, they use local ingredients and old world brewing techniques. They brew cream ales, hefeweizen, Kölsch,  lagers and pilsners. As well as some super interesting IPA's, Belgian ales, sparkling ale, apple cider ale and nitro milk stout. Come and experience their events of food trucks, live music and yoga. 
Gastronom Recommended Sip: Doppelbock – German Style Doppelbock
This award winning brewery has approachable, yet distinctive craft beer. They use fresh grain and hops from local sources to make great wheat beers, along with IPA's and stouts. They don't have food, but host regular food trucks, or you can have food delivered, or bring your own. They also host trivia nights and beer yoga events. 
Gastronom Recommended Sip: Beach Blonde – Golden Lager
Producing both beer and liquor, Spirit Water is the most unique location on the beverage trail. They have tons of beers on tap at all times, as well as a ton of different and ever-changing liquors. They have a large space and patio, are family friendly and have games available to play while you sip. They regularly have food trucks to eat while you sample their extensive portfolio. Some of their beer features are cream ale, French Toast, Peanut Butter and Chocolate, apple pie, Kombucha and even boozy root beer! Their liquors and liqueurs are intriguing and super smooth. They include vodka, rum, whiskey, and bourbon, and even fun liqueurs like limoncello, orange and vanilla. 
Gastronom Recommended Sip: Bourbon Pecan Beer
You just need to download the Naturally McHenry County App, go to Challenges and then start entering the codes you can get at each location. When you finish all 11 you will get a t-shirt and sticker for completing it. Such a fun way to try new drinks and make sure you see all the beautiful country that McHenry County has to offer! Tell them Jay and Leah from 
Gastronom
 sent you! 
Make sure to follow along with us on 
Instagram
, too!