McHenry County, IL Scenic Roads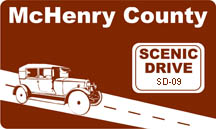 The Scenic Roads program was established to recognize both roads and the surrounding features that create their character (the road corridor). The program applies to all roads located in McHenry County, including city streets, residential streets, and rural roads. Completed application forms will be reviewed by the McHenry County Historic Preservation Commission. The Commission consists of representatives from throughout McHenry County.
The Scenic Roads designation does not "freeze" roads in time. Traffic and life safety issues continue to be addressed while those significant features are acknowledged. The program is intended to recognize roads that are important to the life of McHenry County.
Many of the roads in McHenry County reveal the character of the area. Views of the countryside along these roads, both natural and man made, add to the enjoyment of roadside scenery and to a sense of place. In McHenry County, roads provide views of gently rolling woods and expansive farm fields, the Fox River and its tributaries, autumn color, schools, economic centers, activity centers and urban areas. Roadside land is often the first and most visible land to be converted to residential or commercial uses. McHenry County has taken the lead in establishing the Scenic Streets & Roads Program to recognize some of its rural roads and scenic vistas for future generations.