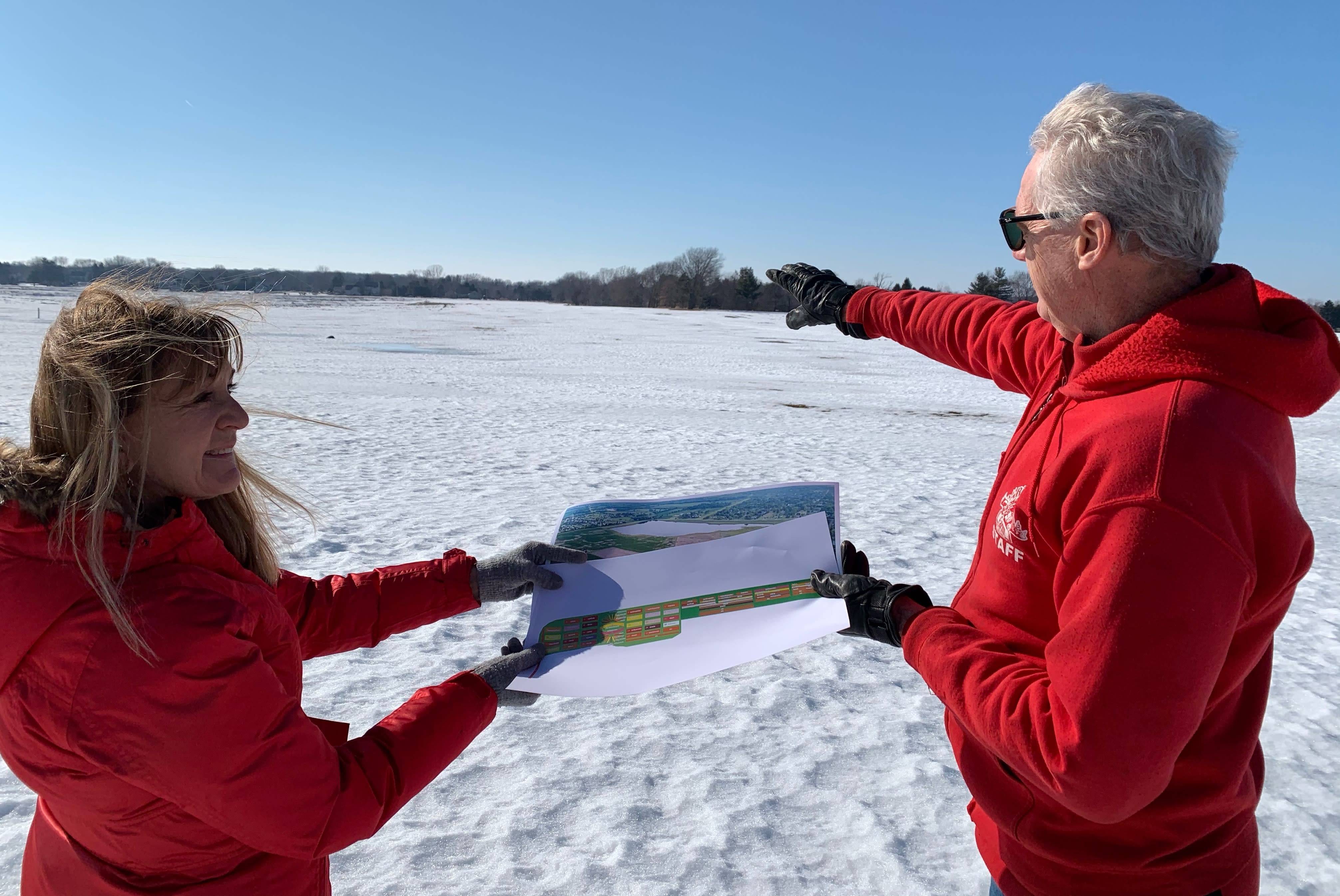 Their bright red parkas popping against a backdrop of sunlit snow on a chilly, early March afternoon, George and Wendy Richardson pointed toward a northwesterly field on their 500-acre farm. 

Soon enough, that sea of melting snow will give way to brilliant oranges, deep reds, bright pinks, purples, yellows and golds as the 300,000 tulip bulbs planted there begin to emerge. 

Thirty different varieties with names like Apricot Impression, Golden Parade and Apeldoorn's Elite all are planted and awaiting their grand emergence in a 5-acre former hayfield at Richardson Farm. And the public is invited to enjoy the splendor during the farm's first-ever Tulip Festival, expected to last from mid-April through mid-May. 

The fest will be open daily while the flowers are in bloom. The fun is set to include a pick-your-own area; food trucks; soft drinks, beer and wine; live music on weekends; free games like giant checkers, giant Jenga and cornhole; a picnic area and a walking trail along a 36-acre lake.

Wendy Richardson noted that her brother-in-law first broached the tulip fest idea a couple of years ago, after sunflower fields were becoming popular in the area. 

"Robert and (his wife) Carol traveled to Washington state, where they grow a lot of tulips, and did some sightseeing and research," she said.

The Richardsons — now including sixth-generation Ryan and his wife, Kristen, in the business — have been adding reasons to visit their rural Spring Grove farm at 909 English Prairie Road for decades. They began offering cut-your-own Christmas trees in 1986, and this fall will mark the 21st year for the renowned Richardson Corn Maze. 

Jaki Berggren, executive director of Visit McHenry County, said the Richardson Tulip Festival is an exciting addition to the area's outdoor spring activities available to residents and visitors alike.

"The Richardsons are, once again, investing in wholesome, fun-on-the-farm offerings that everyone can enjoy," she said. "We couldn't be more pleased to partner with them in spreading the word." 

George Richardson said the tulips were planted in November, with about 30,000 in a sunburst design that should make for a great photo backdrop, 70,000 of mixed colors in a pick-your-own area, and 200,000 in color blocks with walkways between.

"We planted 10,000 bulbs each of 30 different varieties," he said, "so the maturity and colors will be varied. It is going to be spectacular!"

Tulip Festival hours will be 11 a.m. to 7:30 p.m. seven days a week. The farm's roughly 3,800-square-foot gift shop — featuring a wine-tasting area, jams and salsas, donuts, kettle corn, T-shirts, trinkets and indoor restrooms — will be open until 8 p.m., with Covid precautions in place.

Admission to the Tulip Fest will be $15 a person on weekends and $12 on week days; free for children 3 and younger. Admission includes one tulip of choice. Additional flowers will be available in the pick-your-own area for $1 each.

Professional photographers wishing to conduct sessions should send their requests to info@richardsonfarm.com, and should anticipate a three-hour session fee in addition to regular admission. The added fee does not apply to photojournalists or film crews on news assignments.

Other information, including updates on what's in bloom, may be found at richardsonfarm.com and on Facebook.