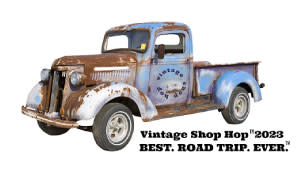 The Vintage Shop Hop is hailed as the 'mother load' of all vintage road trips, it's a self-guided two days to any number of the 400+ participating vintage shops, boutiques, barn sales, oddity shops, and home decor stores throughout northern Illinois and southern Wisconsin. 
Explore the McHenry County shops participating in the Vintage Shop Hop, March 3 & 4th, below:
207 N. Throop Street

815-338-2255
The floral designers at Apple Creek Flowers are dedicated to creating fabulous gifts using only choice flowers in Woodstock. We also have a wide selection of plants and gift baskets for whatever you're looking for. Don't your loved ones deserve the best? All of our flower…
300 W. Front Street

(815) 943-4805
In 1883 Henry Ferris invented and patented the hay carrier. Charles Hunt, and his father in-law Nathan Helm, suggested Ferris move his shop into the basement of their hardware store in Harvard, Illinois. Soon they were selling the hay carrier in the store along with their other…
106 Cass St.

(815) 338-3007
The Backdrop is two sisters and a brother …"vintage" retailers in a modern world. We opened a brick and mortar store in 1988, where we sell handmade, vintage and interesting quirky gifts. Come visit us in Historic Downtown Woodstock, Illinois.
1193 S. Eastwood Dr.

815-382-8849
At the Market you will be greeted by a thousand twinkling lights, magical fragrances and unique home decor to make your space something special. Some of the items you'll find are painted furniture, local artisans with specialty candles and melts, along with many unique…
134 Cass St.

815-337-9131
Vintage, farmhouse, chalk painted furniture, industrial, chippy shabby, contemporary home and retro decor. Hand made soaps & soy candles. Clothing & handbags. Unique one of a kind!!
404 S. Route 31

(630) 567-2873
Whether you are looking for something to give to a special someone or maybe a new statement piece to spice up your wardrobe, we have something for you. We enjoy getting to know our customers and helping every woman find her aesthetic and the perfect fit!
248 N. Throop St.

815-308-5059
Black Oak Home & Haven Co is a collection of new, reclaimed & handcrafted home decor, furniture & gifts.
21 E. Crystal Lake Ave.

(815) 356-0240
We are a unique and interesting Antique and Gift shop located in Historic Downtown Crystal Lake. We offer fair and reasonable prices on beautiful antique furniture, knick-knacks, odds and ends, accessories and jewelry. Please stop in. We look forward to meeting you. You will be…
2 N. Williams St.

(815) 245-5678
8,000 sq. ft. with over 30 vendors selling a mix of antique, vintage, fun, curious, decorative, functional & illuminating items in 10 rooms.
Located in 3000 sqft, June's & Co. has a HUGE selection of repurposed vintage furniture pieces and decor. Many collectible items including vintage Pyrex. MCM, faux plants & plant stands, brass candlesticks, glassware, mirrors, paintings, wood crates, baskets, and SO much more!!
10320 N. Main St.

815-678-4200
Most know me as Cleo Kelly from 40 years at the leather shop. I have turned it into a vintage and handmade goods market.
207 S. State St.

815-596-2004
Our store of specialized consignment will offer handcrafted items, art, pottery, as well as eclectic
9908 Main St.

815-678-7300
Oldies & Goodies is located right on Main Street in historic Richmond, Illinois. Our customers are guaranteed to come here and fall in love with items that they never knew existed. You can find anything from vintage wares, collectibles, repurposed furniture, all with a low price…
4314 W. Elm st.

815-322-2289
This store is to honor family. Our house has always been filled with memories of the past. Through the objects passed down to me from my parents and grandparents, we remember and cherish those we loved. As this passion grew my husband and I developed a love for antique and…
175 S. Northwest Highway

(847) 639-5676
We are a vintage furniture shop in Cary, Illinois that specializes in refreshing older furniture and giving it new life! We have all types of furniture, chalk-like paints, and decor & gifts available for purchase.
Repurposed Glitter Vintage Emporium is a unique collaborative boutique and creative studio located at 1928 Main Street Road in Spring Grove, IL where all ages are welcome to gather, shop, reminisce, and create.
890 Lake Avenue

(815) 334-8960
Three Centuries of Treasures from every corner of the Earth! Our recently renovated 35,000 sq. ft. showroom in Woodstock specializes in early coin-op, slot machines, juke boxes, country store and advertising. This malls is worth a visit . . . and once you've been here you will…
Round up the gals and head over to our little barn in rural Woodstock, Illinois! We carry a fun mix of hand-picked salvage, unique handcrafted items, repurposed home decor and furnishings . We are full of neat finds for your farmhouse/lakehouse/cabin decor inspired home! Please…
10308 N. US Highway 14

(815) 943-3465
Steel Heart, Ltd. has been in business since 1997 and is looking forward to many more years of continued growth and success. Our unique showroom and shop are in the historic barn at The House of Seven Gables, located north of the cozy town of Harvard, Illinois. Built in the early…
Sweet Magnolias in a vintage storefront featuring home decor for all at a good price! Antiques, mid-century, modern refurbished furniture... something for everyone. Our goal is to keep things out of the landfill. We are bringing beauty to being green!